The $5 Phone Dock with Universal Compatibility
Let's face it: the cost of phone docks can be outrageous.  A simple iPhone dock costs $29.00 and a typical dock for the Nexus 4 can run about $20.  Buying a dock that will fit a phone with a case is tough too.  Some of them say they support phones with cases but I have purchased at least 2 in recent past which in fact did not work with my case.  You definitely don't want to have to take your case off just to dock your phone.
So, I decided to go the easy, simple route.  Enter: the $5 Phone Dock.  Yes, it's a mesh business card holder from Office Depot.  It works like a champ!  It fits virtually every phone, is easy to plug your existing charger in and works great!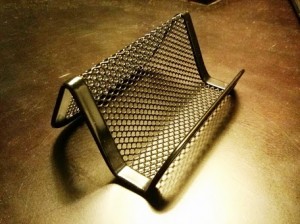 [